Instant Help
An interactive live chat solution as familiar as Instant Messaging


Overview
Instant Help is a live chat solution for internet and intranet web sites and portals and leverages Instant Messaging & Presence technology with no new client-side technology is required. Further, Instant Help requires very little training of sales and support staff. It's as familiar as Instant Messaging itself!
How it works
Instant Help is a real-time messaging & presence software router between your web site visitors & portal customers and your sales or support staff. Requests for help submitted by visitors and customers on your web site are routed to qualified sales and support staff using Instant Messaging, enabling staff to answer questions, solve problems, and provide solutions in real-time.
Immediate ROI
Get more from your Enterprise Instant Messaging (EIM) middleware. Turn your EIM investment into a powerful, interactive web support system. Instant Help can leverage your existing Lotus Sametime, Microsoft LCS or Jabber (XMPP) infrastructure. If you don't have EIM already, you can also use the JBuddy Message Server for private, encrypted enterprise communications. Not ready EIM? No problem! Instant Help can also leverage popular public IM including AIM, MSN, Yahoo, Google Talk and ICQ. Let your support staff IM all day - helping your customers!
SaaS or Licensed
Instant Help is available as a SaaS (Software as a Service), hosted and managed by Zion Software. If you require on-site deployment of Instant Help, please enquire of Sales at Zion Software for consideration.
Visitor Experience
Help is only a click away for your web site visitors. After clicking your Instant Help button, a familiar looking chat window opens and allows the visitor to submit their name and initial question. The system supports several "unavailable" scenarios depending on your requirements. Visitors will receive visual feedback after each action so they know what's going on. If they have to wait in line for help, they will know their place in line. When support staff compose a response, web site visitors will receive typing notifications in the chat window, just like IM. The only system requirement for a visitor is a modern browser (IE, Firefox, Safari) with javascript enabled. No plugins or downloads required!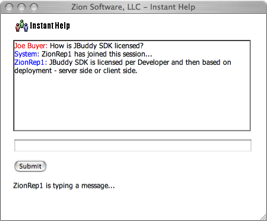 Support Staff Participation
Support staff are regisitered in the Instant Help server as helpers with various skills and attributes and associated with specific Instant Help buttons placed on your web site. Support staff sign into the Instant Help system indirectly. They simply sign on to their Instant Messaging client! The Instant Help server uses an intelligent rule engine to determine which support staff qualify to assist the web site visitor. Next the Instant Help server uses a preconfigured algorithm to "invite" qualified and available support staff to assist the web site visitor. The Instant Help server sends help requests using instant messages. Support staff interact using IM with "proxy" agents which forwards the messages back and forth with the web site visitor. No training, no plugins, no downloads!
Call Center Features

Skills based intelligent rule engine
Skill and Availability based routing
Hold queues for busy sites
Transfer help session to another support staff
Redirect options when support staff are unavailable
No training required

Deployment Simplicity

Simple web site integration using a few lines of HTML & Javascript
Hosted Service
Possible Deployed on your server

Java Powered
If you choose to run the Instant Help Server on your own hardware, it's great to know that it is powered by Java and available on nearly any platform.


More Information